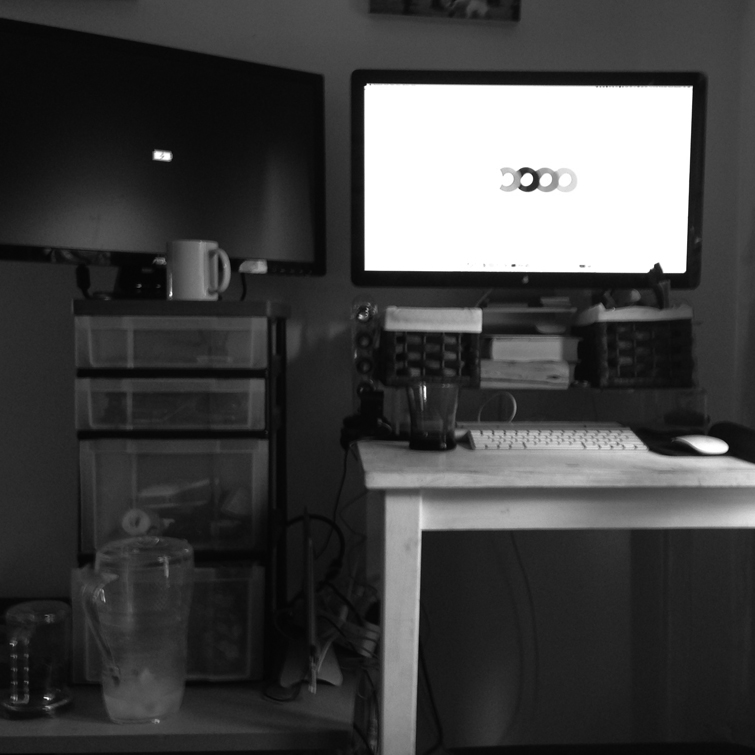 Productivity Porn: An Office War Room to GTD
Productivity Porn: An Office War Room to GTD
I've posted before about how I keep the physical space around me organized in order to encourage productivity.  These days, I am working from home, so it's important to keep my work area a productive place.   Here is a visual layout of my 'war room'.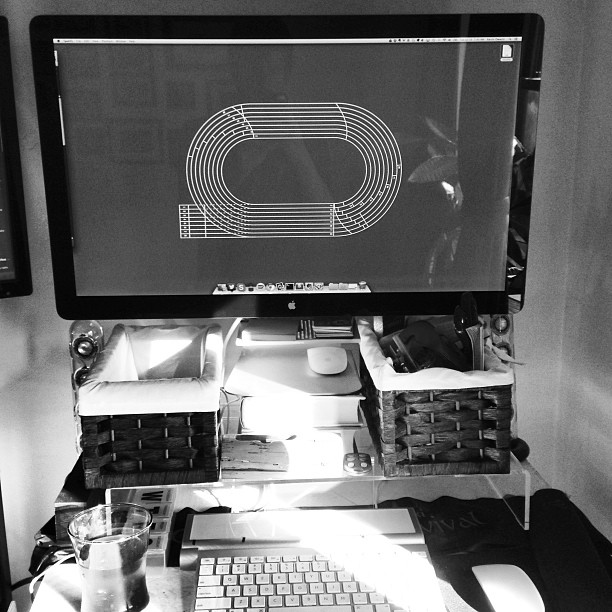 Taking a step back: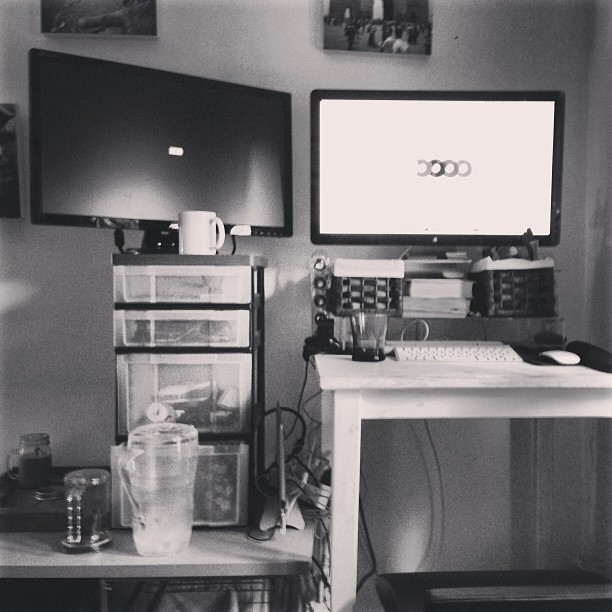 WorkStation
Desk
Organization
Office Supplies
File Drawer (not pictured)
Printer (not pictured)
First Aid Kit
Mason Jars
The Basics

Notebook
Business Cards (for myself)
Stapler
Pens
Scissors
Labels
Manilla Folders
Paper Clips
Envelopes & Stamps
Checkbook
Tissues
AAA, AA, D, 9V Batteries
Rechargeable-Battery Charger
Toolset w standard tools (hammer, screwdriver, plyers, etc)
Plug Multiplier
Tape Measure
Glue, Whiteout
Food, Beverage, and other Nice-to-Haves
Backup
A wicker basket with plenty of spare electronic items:

plugs
ethernet cables
USB pen drives
monitor stands
USB cords

Office supplies (staples, notebooks, etc)
Mobility
Organizational Principles
Suffice to say, I think regularly critically about how my physical environment effects my working mental state. I've covered largely covered the principles that I use to keep my workspace organized and productive in another post.  To summarize:
Everything has its place.
Most commonly used items are most accessible.
Each product solves a problem. Don't consume for consumption's sake.
Don't procrastinate by focusing on organization when actionable, higher-order work exists.
A common aesthetics matters, but only around the margins.
Other Pro-tips
I like to cover my webcam with a piece of black tape.  Some folks think that that's akin to wearing a tin-foil hat.  I don't think so.  There are well-documented cases of hackers taking over remote webcams (even without turning on the remote light), and with the recent revelations about NSA spying on everyday americans, I don't think we're so far off from the day when hackers can watch you eat, sleep, make love, and work — all from the comfort / safety of some remote command center.
I gave up coffee for tea.  For various reasons (perhaps enough for an upcoming post), I've found coffee to be too strong of a jolt.  The subsequent come-down from the energy is also very strong.  I've found tea to be a happy medium.
I work from home, which has lately caused me to go a bit stir-crazy.  I maintain an explicit separation of space between home & office.  It's helped to keep me from going crazy (a little).
Keep your devices in sync with each other by working from a cloud-based storage system.  I use Google Drive but am transitioning to DropBox.
/soapbox
I hope you found this post on my workplace useful.  If you have any productivity porn or pro-tips, leave me a comment on twitter.