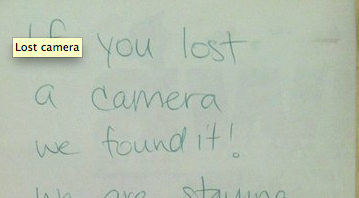 Right Intentions
Right Intentions
Aloha from Hawaii. I'm on vacation, so I've just got a quick post to file this week.
I'm lucky enough to be staying in Kannapali beach in Maui this week, and spending the day yesterday trekking on the road to hana.  For the uninitiated, the road to hana is a treacherous stretch of highway in the northeast of the island of Maui, famous for being both very windy and very scenic.  We spent all day in the car with a few breaks for scenic overlooks, cliff diving, and hiking.
At one of the scenic overlooks, I left my nice SLR camera on a rock.  I'm a total space cadet!  Anyway, two hours of treacherous driving later, and I realize the lapse.  It's getting dark, and after checking craigslist Maui lost + found without any luck, we decide to go back.  After an few hours of driving in the winding jungle road in the dark, we arrive at the overlook, and find this note on a rock!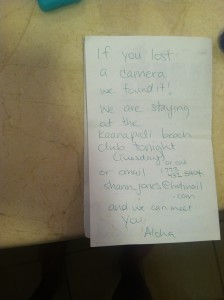 A few hours later, I met this nice Canadian couple, and I have my camera back!   They could've taken the camera for themselves and made a $300 profit just putting my camera on eBay.  File this post in the warm and fuzzy category — I'm blown away by the kindness and the intentions of these total strangers.
Mahalo.  See you all next week.